Royal wedding: Nigerian prince marries in Loughgall village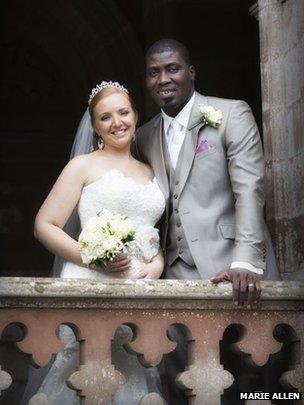 A small village in Northern Ireland has become the unlikely setting for a royal wedding.
A Nigerian prince and a County Armagh teacher have tied the knot in the bride's home village of Loughgall.
Kirsty Crooks became a princess, and not just for her big day, when she married Prince Mustapha Oniru of Lagos.
The royal couple exchanged vows at Loughgall Presbyterian Church on Thursday. Guests included the groom's parents, the king and queen of Lagos.
King Idowu Abiodun Oniru and Queen Olori Arike Oniru wore traditional Nigerian ceremonial dress for the wedding, while their son opted for a beige three-piece suit.
After the church service, the guests travelled to a lavish reception at Castle Leslie in County Monaghan - the same venue that hosted the wedding of Paul McCartney and Heather Mills in 2002.
The former Ms Crooks told BBC Radio Ulster it was an "amazing day" and said she was looking forward to "starting my new life as a princess".
The 27-year-old met her prince through her job at the British International School in Lagos.
The school is owned and run by the royal family and Prince Mustapha is the school administrator.
Ms Crooks was recruited to teach languages at the school two years ago but said that at first, she did not know of the administrator's royal status.
"To be honest, when I first met him I had no idea that he was actually the prince," the bride said.
"He's very, very humble and he doesn't even like to be called it, so when we're here you wouldn't even realise, but when you went to Lagos you would certainly know who he was."
She said her new in-laws arrived in Northern Ireland earlier this week with a large entourage, that included other Nigerian kings and chiefs. They all went to her grandmother's house in rural County Armagh, where the two families were formally introduced.
The bride said such a meeting was "customary in Nigerian tradition".
"I was provided with a new wardrobe to start my life as a princess, so it had definitely been very exciting," she added.
The bride's mother, Lynne Harvey, told BBC Radio Ulster that her family had been on an "incredible journey", getting to know her son-in-law over the past two years.
She said the Lagos guests' costumes provided a "breathtaking display of colour" at the wedding but added that the bride's family were "definitely not upstaged", as both the bride and her mother were given traditional Nigerian outfits and head gear to wear at the evening reception.
"We wanted them to know that we appreciated and respected their culture," Ms Harvey said.
"It was such an honour to have the king here because traditionally that would never happen and we were very honoured that he was willing to come here and allow our daughter to get married in her tradition, and in her Christian church."
Speaking of her daughter's new regal status, Ms Harvey said: "She will always be a princess, she didn't need to marry a king's son."
Although it was a more low-key affair than some royal recent weddings, the editor of the local newspaper held his front page in order to report the scoop.
Portadown Times editor, Alistair Bushe, said their photographer "made a mad dash" to the church on Thursday, after they got a tip-off that a royal wedding was about to take place.
"We got a call about mid-morning yesterday from the mother of the bride," Mr Bushe told BBC Radio Ulster.
"To be honest, when we first heard we were a bit dubious about the authenticity of this but it was very much true. The king of Lagos was indeed there. It was one of his three sons, Mustapha, who was marrying Kirsty. Quite an extraordinary story," he said.
"Our deadline was basically around lunchtime, so we held the paper back for an hour or two, just to get the pictures and the story in."
The royal couple are due to travel to Monaco and then St Tropez for their honeymoon, but plan to set up a base in Northern Ireland.
They are living in London at present, where the new princess teaches GCSE and A level French and German to high school students in Uxbridge.
However, she said it is likely they will split their time between the UK and Nigeria, as her husband will have royal duties to perform in his homeland.
Related Internet Links
The BBC is not responsible for the content of external sites.