Paint attack on St Malachy's Church, Belfast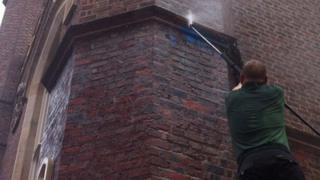 A Catholic church in Belfast city centre has been daubed with paint in an overnight attack.
Blue paint was thrown over one of the pillars at St Malachy's Church in Alfred Street.
The building is currently being steam cleaned.
It is thought to be the first time the church has been targeted in recent years. St Malachy's is one of the oldest Catholic churches in the city.