Shankill group tackles educational underachievement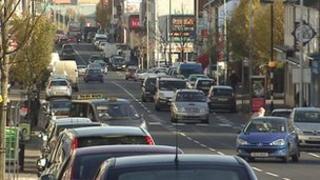 The Shankill area of west Belfast has well-documented problems with educational underachievement.
But people working in the community have some ideas about how to tackle it.
Children in the area, who have just left primary school, have been taking part in a scheme this week to help them prepare for secondary or grammar school.
Jackie Redpath from the Greater Shankill Partnership, said the scheme is part of a vision to tackle a huge issue.
"In terms of children in the Shankill, there's a lot of educational low achievement, it's a long standing problem," he said.
"In past generations people who had aspirations for their children was in relation to the shipyards, a skilled or non-skilled trade or Mackie's engineering plant for boys, obviously linen mills for girls.
'Value'
"There was an old saying, your education started with your apprenticeship. You didn't need exams.
"It's all gone, we can't depend on that anymore and as a community we're having to learn the value and place more value and new value on education and learning for our children."
Every child who took part on the scheme has been given a certificate and prizes.
One of the children who took part was Justin.
"I'm going to the Boys' Model," he said.
"It's been good because you're learning how to move on to your next school and they're getting you ready.
"We went on a trip to the Boys' Model on Wednesday to do a power point on the history of the Shankill."
The move to big school is not just daunting for kids - adults often worry too.
Julie Russell's son is off to the Boys' Model at the end of the month.
"You're a wee bit scared of what he's walking into in relation to the differences in the sizes of the school," she said.
"I'm a bit more nervous than he was but knowing now that he's come to the programme and he's met people who are also going into the Boys' Model and everybody is sort of in the same boat, I'm a bit more relaxed."
The children who took part in the scheme will go through a big change in the next few weeks but it will probably take a lot longer to change the levels of educational achievement in the area.
Special zone
At the moment teenagers in the Shankill area are two and a half times more likely to leave school with no qualifications than the Northern Ireland average.
Mr Redpath thinks the executive should designate the Shankill as a special zone.
He said initiatives like this week's scheme won't be enough to deal with the issue.
"This is a first step," he said.
"On its own it's useful, on its own it will not achieve what we need to achieve.
"In terms of designation, Laganside in Belfast would not have happened if somebody hadn't declared it a designated area. Cathedral Quarter would not have happened unless it had a designation and focus.
"Dealing with the educational low achievement in this area will not happen unless we have got that designation and focus in the long-term."