Troubles documents 'must be returned'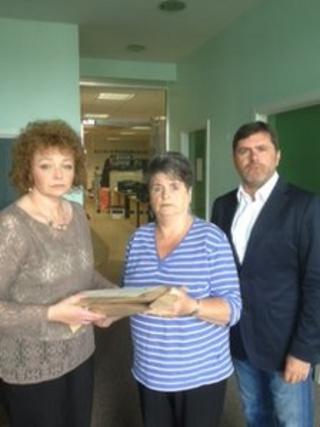 Families of three people killed in the Troubles have been asked to hand back documents about the deaths that they were given last week.
Culture Minister Caral Ni Chuilin released documents related to three historic Troubles killings.
The move sparked a legal dispute with the secretary of state and the chief constable who objected to the publication of the material.
Families given the documents were asked to return them at Belfast High Court.
This was pending the outcome of the ongoing legal dispute over whether the papers should have been released in the first place.
However, to date, all of the documents have not been returned.
Court proceedings have been adjourned until 13 September but in the meantime an injunction is in place stopping the publication of the papers and requesting the return of documents already given out to relatives.
The papers at the centre of the court battle relate to three Troubles-related deaths - IRA man Paddy McAdorey killed by the Army in 1971, social work student Michael Donnelly killed by a plastic bullet in 1980, and Sadie Larmour murdered by loyalists in 1979.
Details
The campaign group Relatives for Justice and the Kevin Winters law firm wanted to see the inquest and trial papers, which were held in the Public Records Office.
On Friday, Ms Ni Chuilin - whose department oversees the Public Records Office - personally handed them over.
But the secretary of state and the chief constable believe the papers should not have been released without the removal of details which they say could identify security force members.
A judge granted an order preventing the documents being circulated, at a late-night hearing on Friday.
Next month, the matter will return to court. In the meantime, efforts are expected behind the scenes to try to resolve the legal dispute.