33,000 Northern Ireland students get A-level results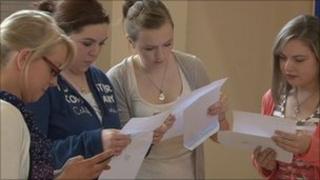 More than 33,000 students across Northern Ireland are receiving their A-level results.
But AS and A grades are expected to be down slightly, as has been the trend over the last two years.
This is thought to be because the lack of jobs is forcing teenagers with a wider range of ability to stay on at school for A-levels.
Half of 18 and 19-year-olds in Northern Ireland will use their grades to go to university.
This is a much higher proportion than other parts of the UK.
Results can be delivered by post or in schools, but two-thirds of the candidates have signed up to get them online, wherever they are in the world.
Students have been urged not to jump at the first offer.
Peter McEvoy of the Careers Service said: "Some of these young people who get their results will see themselves as having failed. They have not failed.
"They have worked really hard for two years. They may only have missed their course by one or two points. They are by no means a failure and there are options for all of them."
Universities in Northern Ireland have experienced a slump in interest in recession hit, construction-linked degrees, and across the UK physical and biological sciences have seen an upturn.
The careers service help line for students is telephone: 0300 200 7820 and its website offering advice to students is http://www.nidirect.gov.uk/results.
Speaking about the results, Avril Hall Callaghan from the Ulster Teachers' Union said the success of those who had excelled also highlighted the level of under-achievement.
'Smaller classes'
She called for parity of funding to correct this.
"Whilst we welcome what the minister is doing to address the needs of children he has identified as having the greatest literacy and numeracy deficit, this exam result disparity must be addressed holistically or we risk losing a generation of young people who see little future for themselves," she said.
"The issue would be best addressed if policy makers took a holistic approach, particularly in terms of funding a child's learning journey from pre-school days into adulthood."
She pointed out that primary schools in Northern Ireland had some of the highest pupil to teacher ratios in Europe.
"Children need smaller classes, not larger, if they are to fulfil their maximum potential. They need support and guidance from expert teaching, and they need that from the very start of their educational experience," she said.
Kathryn James from the National Association of Head Teachers (NAHT) congratulated students and schools for their hard work against an increasingly complex and challenging background.
"If the anticipated fall in the top grades materialises it should not be seen as a failure of students and schools but as the inevitable consequence of too much flux in the education system," she said.
"The real issue is surely the extensive and rapid reform to the A-level system proposed by the government. It is simply not listening to the concerns of schools, colleges and higher education institutions over the pace and substance of reform."
Ms James said schools were also facing extensive upheaval with GCSEs and in the provision of special educational needs.
"It would seem that nobody has looked at the 'big picture' and taken stock of the sheer volume of change that school leaders will be required to implement within a constricted time period," she said.