Man in court over petrol bomb possession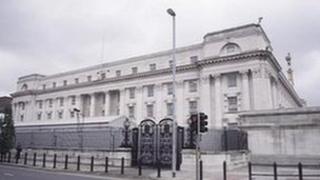 A man has appeared at Belfast High Court on charges of riot and possessing articles for use in petrol bombs.
Connor Whelan, 29, of Pembroke Manor, Dunmurry, was arrested as crowds gathered in the Broadway area of west Belfast ahead of disorder on 11 July.
He was allegedly stopped with a petrol container and box of 35 bottles amid heightening tensions in Belfast.
Mr Whelan was refused bail due to the risk of any further offences.
Prosecutors claimed Mr Whelan was wearing latex gloves and equipped to make petrol bombs.
He was detained after officers saw three men running away from a black box and canister near Fallswater Street.
The court heard Mr Whelan claimed that unknown paramilitaries had asked him to carry the material.