Northern Ireland's first Homeless World Cup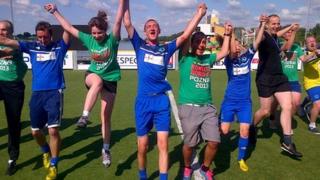 Northern Ireland has beaten England and Germany in the World Cup.
But before Northern Ireland fans get too excited, this was the Homeless World Cup.
Members of football street leagues from Belfast and Londonderry are in Poznan, Poland along with teams from 50 other countries.
Both the street leagues and the world cup are run to help homeless people regain confidence, self-esteem and some control over their lives.
Stephen Weldon, Northern Ireland's team captain, said he hopes to use the motivation gained from the competition to help him get a job.
"Back at home, I'm currently in a bedsit at the moment. I was in a hostel for nine months," he said.
"The football has got my confidence and my self-belief back up again. It's given me the motivation to get my life back on track."
Michael Boyd, the IFA's community relations head and a coach mentor for the street leagues, said the atmosphere in Poznan was "incredible".
"There'll be 350 matches, five continents, it's for men and women," he said.
"The Homeless World Cup is an incredible experience and I'd encourage people to get on to Homelessworldcup.org to tune in to some of the games.
"It's been a great experience for everybody, the football's almost secondary. It's more about developing the players, the education side of it."
'Brilliant experience'
Justin McMinn, the team manager, was pleased with the Northern Ireland team's most recent fixture and its 7-1 victory over Germany.
"Germany were in our group and they were the hardest team in the group so to beat them it's great," he said.
"To think we beat them 7-1, we thought they might even take us, they looked pretty good."
Team captain Stephen said he was proud to represent Northern Ireland.
"The experience has been brilliant, to meet all the different teams from all these different cultures, it's been brilliant," he said.
"Through the street league they asked me to go the trials to see if I could actually represent Northern Ireland. The street league is beneficial for your fitness and for your mental health."
The Belfast Street League, which has been running since January 2010, is a five-a-side football league set up for disadvantaged groups such as those with drug and alcohol dependencies, homeless people, asylum seekers, refugees and the long-term unemployed.
Justin said the street league can see up to 12 teams turning up.
"So many people's lives are benefiting from this," he said.
"We set up the Derry Street League about a year and a half ago, so they're getting a few teams on board as well.
"It's not just the football, obviously football's the hook. We want to change people's lives for the better. We also provide coaching."
'Back on track'
Many of the participants are helped to move into employment.
"We put players through their level one coaching badges and also do referee courses so that the guys can actually get employment themselves. We can pay them to help out with the league or being a referee, that's the goal," Justin said.
"Sometimes the players give a wee bit of testimony and say that from coming to the league every week, the discipline, the motivation and helping their self-esteem, it's helping them get into work."
The Northern Ireland team is the cream of the Belfast and Derry street leagues.
"We narrowed it down to our final eight and we had a couple of reserves as well. They're good, some of them are very good. If they had the right training they could make it into the Irish League," Justin said.
Both team captain Stephen and results so far back up Justin's estimation.
Motivation
"I lead by example from the back. But there's a couple of our players who are top quality, the motivation they have is unbelievable," said Stephen.
"We've played a couple of matches already. We've beaten Switzerland, we beat England 8-0.
"For the lads and myself it means the world to us to be here and play the football. But to represent your country, it means even more."
The Homeless World Cup was founded by Mel Young from Scotland and Harald Schmied from Austria, who came up with the idea at a conference on homelessness in Cape Town in 2001.
Aiming to "change the lives of homeless people through football", they launched the first Homeless World Cup tournament in Austria in 2003.
Sunday 18 August will be the final day of the 2013 Homeless World Cup, but the team still have a lot to do before then.
"We play Finland, then Canada and then we've got a friendly against Ghana," Justin said.
"Hopefully we can go on and win this group and beat some guys in the quarter-finals and the semis and get some sort of trophy.
"We've learned so much in our first year, we'll be more prepared for next year in the way we do things and in training."