PUP's Jonathan Harvey acquitted over flag protest assault charge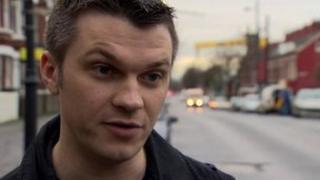 A prominent union flag protester has been acquitted of assaulting a police officer at a demonstration in Belfast.
Jonathan Harvey of the Progressive Unionist Party (PUP) was also cleared of disorderly behaviour and resisting police.
He had been accused of pushing a senior officer following a verbal exchange in the east of the city last December.
The judge said that proof beyond all reasonable doubt was required for a conviction.
Protesters had assembled on the Newtownards Road to oppose the decision to limit the flying of the union flag at Belfast City Hall.
Mr Harvey, 31, of Lendrick Street in the city, was not part of the gathering but arrived in the area to meet his father.
Belfast Magistrates' Court heard he agreed to speak with police as a community representative in a bid to defuse tensions.
It was claimed that an officer, using foul language, told his father he should be watching Glentoran football team instead.
Fish-hook manoeuvre
Mr Harvey told how he challenged the disputed remark, describing the officer as "a disgrace", but denied police claims that he pushed anyone.
According to his account he was then grabbed and dragged to a police Land Rover, with fingers put into his mouth in a fish-hook manoeuvre.
After hearing both sides the judge dismissed all charges against Mr Harvey.
Following his acquittal Mr Harvey spoke of his relief and said he would take a complaint to the Policing Board.
"I'm glad justice has been done because I think the loyalist community has felt the system has been against them in cases where people have been caught up in things and arrested without having done anything wrong," he said.
"This will be a confidence booster to the loyalist community."
He said that a complaint he lodged with the Police Ombudsman was not upheld.
"I plan to make representations to members of the Policing Board about policing and justice," he said.