Northern Ireland unemployment rate below UK average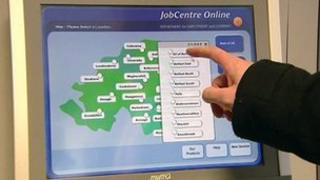 Northern Ireland's unemployment rate has fallen below the UK average.
Latest government figures reveal there were also 500 fewer people claiming benefits last month.
The unemployment rate has fallen to 7.5%. Economy Minister Arlene Foster said the figure reflected what she said was Northern Ireland's strengthening economic position.
In July, there were 62,400 people claiming unemployment benefit, a drop of 500.
It is the sixth monthly fall in a row and the minister said it has been almost six years since there was this kind of sustained decrease.
"The recent UK Trade and Investment report highlighted Northern Ireland as one of the most successful regions within the UK, for inward investment," she said.
"Our strategy aims to continue to develop high value-added, quality jobs as well as encouraging investment to further demonstrate that Northern Ireland is a great place to do business."