Newry councillor Henry Reilly is UKIP's Euro election candidate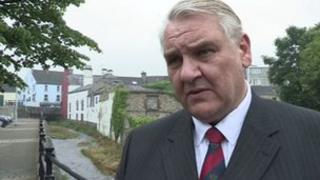 Henry Reilly will be the UK Independence Party's (UKIP) Northern Ireland candidate at next year's European elections.
He said: "I am delighted to have been selected as UKIP's European candidate in Northern Ireland.
"I believe we have a real chance of winning a seat in what is one of the most important elections in UK history."
Mr Reilly is a councillor on Newry and Mourne District Council.
He comes from a County Down farming family and was first elected to the council in 1989.
Before becoming a councillor, he held a number of positions with the Department of Agriculture and Rural Development.
He added: "I see daily how the EU (European Union) is destroying industry, hampering entrepreneurship and decimating our agricultural and fishing communities.
"I look forward to having a mature debate on our membership of the EU during the campaign."
UKIP leader, Nigel Farage MEP, said: "I have become increasingly impressed by Henry since he joined the party back in 2007.
"Henry has built a considerable reputation as a public representative with a phenomenal work rate and a 'dog with a bone' attitude to getting issues sorted.
"We are absolutely confident he will make a great member of the growing UKIP team in Brussels."