Annalong quarry victim Colin Polland 'should get bravery award'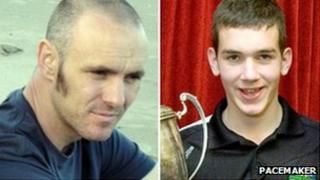 A father of two who died trying to save a drowning boy in a disused quarry in County Down should be recognised with a posthumous bravery award.
Coroner John Leckey made the recommendation at the inquests of Kevin O'Hare, 15, and Colin Polland, 39.
The teenager had got into difficulty and Mr Polland jumped into the water to try to rescue him.
During the inquest, Mr O'Hare's mother challenged Kevin's cousin to explain why he had taken him up to the quarry.
The inquest heard that Kevin, his 17-year-old brother Liam, and Philip McGrillen, 24 - the boys' second cousin - drove up to the secluded quarry in Annalong after spending the afternoon in nearby Newcastle playing pool, visiting amusement arcades and eating ice cream.
Mr McGrillen told the court that he and Kevin decided to go for a swim on the spur of the moment, with Liam opting out because he could not swim.
He recalled that after both stripped down to their boxer shorts he jumped in first and had got out of the water again when his young cousin also jumped in.
"When Kevin jumped into the water and resurfaced he was panicking big time," Mr McGrillen told the inquest.
He said he warned his cousin to expect the water to be cold and said Kevin was around 6ft (2m) from the edge of the quarry.
"His arms were all over the place, I could tell he was in difficulty. He was shouting 'Philip, help me'," he added in a statement read to court.
'Thrashing back'
Mr McGrillen said he swam out to his cousin but was unable to grab him.
"I could not get hold of him, he was thrashing back with his arms," he said.
Mr McGrillen said exhaustion had started to hit him and he returned to the edge of the water. As Mr McGrillen was trying to save Kevin, Liam O'Hare had run off to find help and had encountered Mr and Mrs Polland.
After Mr Leckey had questioned Mr McGrillen about the incident, Kevin's mother spoke from her seat in the public gallery.
"Why did he take him there?" she asked.
"Why? I just want to know why, when he promised he was coming straight back from Newcastle?"
Asked to respond by Mr Leckey, Mr McGrillen said: "We just decided to go up to it. We didn't plan to go up from the outset."
He agreed when the coroner asked him was it a "spur-of-the-moment" decision to go for a swim.
Calls for help
Mr Polland, who was originally from County Down but had been living in Ilford, Essex, was home on a holiday when the tragedy happened.
They had been visiting a nearby cottage when they responded to calls for help.
His widow Adele told the inquest that she swam out into the cold water when her husband disappeared below the surface but was unable to get deep enough to reach him.
"I tried to reach down with my feet but I couldn't reach Colin," she said.
"I couldn't dive so I couldn't reach Colin."
Mrs Polland described the debilitating effects of the cold water.
"I felt a lot of pressure around my lungs, felt myself starting to have difficulty breathing. (It happened) very quickly when I got to the deep, coldest part of the water."
She said she was forced to swim back to land because the coldness was starting to overcome her.
"I made a decision that I did not want my children to lose two parents," she said.
Kevin's father Eugene O'Hare earlier told the inquest that his youngest of four sons loved Gaelic games.
"Kevin lived for football," he said.
In a statement read to court, he described the special relationship Kevin had with his mother, before recounting the last time they saw him as he drove off with his brother and cousin.
"He gave his mother a kiss and cuddle and said he was away to Newcastle, he said 'Right Dad, I'm away'. That was the last time I saw him alive."
Mr Leckey then asked Mr O'Hare what he would want to see done with the quarry.
"I think it should be filled in, or closed down or something," he said.
"I don't see the use of them, why are they there? Why's the hazard there to the public?"
While the quarry was on private property - it is owned by a relation of the Pollands - the court heard that people often gained unauthorised access for swimming. The court was told that over the years gates and warning signs had been vandalised and thrown into the water.
The inquest also heard that two police officers also entered the water at Paul's Quarry to try and save the victims.
'Tried their best'
Questioning Sgt Kelly Warnock about the officers' actions, Mr Leckey asked whether in hindsight they should have entered the water without appropriate safety equipment.
"Hindsight is a wonderful thing. As well as being police officers, they were human beings and it would have been very difficult to do nothing. They tried their best," she said.
The officers were also unable to dive deep enough to reach the two victims.
Their bodies were recovered by police divers around three hours later.
Mr Leckey said Mr Polland had "lost his life heroically trying to save the life of Kevin O'Hare".
"I would recommend that his bravery is recognised posthumously in some way," he said.
Northern Ireland's most senior coroner said he would also write to Stormont's Minister for the Environment Mark H Durkan, Newry and Mourne District Council and the owner of the quarry to see what action could be taken to improve safety, as he was concerned of the potential for another drowning tragedy.