Bomb attack at Woodbourne police station in west Belfast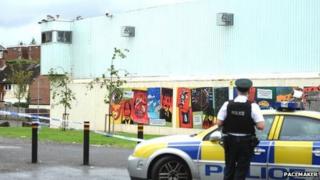 Children picked up an unexploded bomb outside Woodbourne Police Station in west Belfast, the police have said.
It was one of two devices thrown at the back of the station on Monday night, one of which exploded. There are no reports of any injuries.
Police said children carried a pipe bomb to the front of the station.
Ch Supt George Clarke said the attack was an attempt to kill and maim police in a way that "exposed the community to massive risk".
"In doing so they were absolutely reckless as to the consequences for local people and as to the consequences for those children," he said.
"These are not commercially manufactured, stable items, these are extremely volatile, very, very dangerous, utterly lethal devices which could function [explode] at any time."
The explosion happened about 22:30 BST and the second bomb was found at about 23:00 BST. It was made safe by the Army.
After a follow-up search by police and Army on Tuesday all roads in the area have been reopened and all evacuated residents have been allowed back to their homes.
Ch Supt Clarke said he believed dissident republicans were responsible and said they were people who had not moved forward and had not listened to the condemnation from all sides of the community.
"I can't see the logic in throwing bombs at the back of a police station and leaving an unexploded one for children to pick up," he said.
Councillor Brian Kingston said a number of people were moved from their homes in Lenadoon and the Suffolk estate due to the incident.
He said it had all the hallmarks of a dissident republican attack and was a "cowardly attempt to kill police officers".
"I travelled up late last night to the area, I spoke to local people, the most disturbing aspect of this apart from the attempt to murder police officers was that children were caught up in this incident," he added.
"The device which exploded went off at about 10.30pm, and I spoke to people in Suffolk estate who witnessed what subsequently happened.
"Around 20 to 30 minutes later, as they were standing at Ringford looking across, they saw a group of young children aged around nine, 10, 11, come round the side of the police station carrying an object.
"They went up to the sangar at the front of Woodbourne police station where a security officer spoke to them.
"A police officer then came out the main gate and spoke to them.
"They placed an object on the ground and they scarpered along Stewartstown Road and up Suffolk Road.
"So this is a combination of childhood innocence and a deadly terrorist attempt to maim and kill."
He said the explosion was heard as far away as Lisburn.
Secretary of State Theresa Villiers said: "I condemn this despicable attack on a police station in west Belfast.
"Those responsible showed a complete disregard for life and contempt for local people."