Queen's ranked in top 15 UK universities by student survey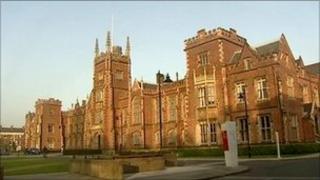 Queen's University Belfast is one of the top 15 universities in the UK according to a new student survey.
Queen's achieved an overall satisfaction score of 90% in the National Student Survey (NSS).
That placed it just one percentage point behind Oxford University.
Prof Ellen Douglas-Cowie, a Queen's pro-vice-chancellor, said: "This result is testament to the quality of education and opportunities on offer at Queen's."
She added: "Queen's prides itself on offering an exceptional experience for our students who are the lifeblood of this university. The NSS result is not only wonderful news for our students, but also for all our dedicated staff."
The result is the best ever NSS overall satisfaction outcome for Queen's, and sees it ranked 12th overall in the UK (excluding further education and specialist institutions).
Queen's students gave the university a score of 90% or above on several key areas of the student experience, including teaching.
The intellectual stimulation delivered by courses and students' access to high-quality library and IT resources at the university also came in for praise.
'Reassurance'
Prof Douglas-Cowie added: "Our NSS ranking has risen steadily over the last number of years, reflecting the fact that we are an institution which both listens to its students and is committed to investing in their future.
"It is particularly heartening to see that in addition to the high marks given to our overall student experience, including teaching and learning, many of our individual subjects have also scored particularly highly, with 24 subjects out of 41, from anthropology to aerospace engineering and music to medicine, achieving a rating of over 90% or higher.
"In a week when thousands of our young people will be deciding on what institution to choose following the outcome of their A-levels, these latest NSS results provide tremendous reassurance for those choosing Queen's."
Niall McShane, president of Queen's Students' Union, added: "We place great emphasis on ensuring that students at Queen's are given every opportunity to make the most of their time here and that they are equipped with the relevant skills to give them a head start in the graduate employment market.
"These latest results from NSS verify that in coming to Queen's, students are making a decision that will impact positively on the rest of their lives."
The National Student Survey is a high-profile annual census of nearly half a million students across the UK.
It produces influential higher education public information, giving final year students a powerful voice to help shape the future of their institution.