Northern Ireland house prices stabilising, says survey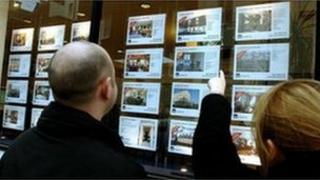 The Northern Ireland housing market is stabilising after a six-year crash, a survey of estate agents has suggested.
However, figures from the Office for National Statistics (ONS) suggest that prices actually fell slightly in June.
Ninety per cent of those surveyed by the Royal Institute of Chartered Surveyors (Rics) said prices had remained the same in the quarter ending in July.
Seven per cent said prices were up and 3% said they were down.
The ONS figures, which are based on mortgage transactions, showed a fall of 0.4% compared to the same time last year.
In May, the ONS data showed that prices had risen by 1.9% which was the first month that Northern Ireland house prices had grown year-on-year since February 2008.
The ONS figures give an average price of £130,000 - the same as in early 2005 - which means that thousands of homeowners who bought in the peak years are deep in negative equity.
Rics said their survey showed that for the first time since July 2007 there have been two consecutive months where more agents have reported rising rather than falling prices.
A third of agents who responded to the survey also said that transactions had increased.
The official Northern Ireland house prices index, covering the second quarter of 2013, will be available later this month.
That index, which is based on stamp duty returns, is the most comprehensive as it includes cash transactions.
It showed that in the first quarter of the year prices were still falling and that the average house price was, at most, £109,000.
It also suggested that prices, particularly for apartments, were significantly below 2005 levels.