Alasdair McDonnell backs Police Federation parades ban call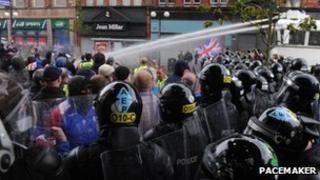 The leader of the SDLP has backed a call from the Police Federation for all contentious parades in Northern Ireland to be stopped for six months.
Alasdair McDonnell said "extraordinary circumstances require an extraordinary response".
Police Federation chairman Terry Spence said a six-month parades moratorium would allow political representatives to find a solution to the issue.
Unionist leaders and the head of the Parades Commission rejected the call.
Mr Spence made the comments following serious rioting in Belfast city centre on Friday night.
Fifty-six officers were injured during the trouble after loyalist protesters blocked a republican anti-internment parade on Royal Avenue.
Police fired 26 plastic bullets and made eight arrests during the operation.
Mr Spence said a ban on parades "would give everyone a breathing space so that Richard Haass, the special envoy from the United States, can do his work, and it also gives the police service time to consolidate their position".
'Leadership'
He added: "What we need is an urgent surge in resources, because it is quite obvious on the basis of what has been happening over the past year that the police service is stretched to the limit."
Mr McDonnell said: "The violence around the 12 July and the anti-internment march at the weekend, as well as the negative impact of the Castlederg march commemorating IRA bombers, has only succeeded in souring the political process.
"Everyone involved needs to show leadership to ensure that the breathing space is created to allow for constructive and positive engagement during the Haass talks, and this moratorium would have the potential to complement this process."
However, Traditional Unionist Voice leader Jim Allister said: "In no free and democratic society can the right to parade and protest be cancelled just because the police force think that would be a good idea.
"It is the PSNI's duty to protect those fundamentals, not call for them to be revoked."
The DUP's Jeffrey Donaldson said: "Whilst it might be possible to understand the motivation behind calling for a six-month ban on contentious parades this will not provide a long-term solution and it may not even reduce problems in the short-term."
'Operation Titan'
The Chair of the Parades Commission, Peter Osborne, said he wanted to see dialogue to resolve contentious parades, but said he did not believe such marches should be put on hold while the talks take place.
"I certainly don't think it needs a moratorium on parades," he said.
"We're close to the end of the summer and what we have been saying for many months and years now, is that as soon as the summer ends, that's when people need to start to have that dialogue to try to find resolution," Mr Osborne added.
Meanwhile, police have set up a special unit to investigate public order-related incidents in Northern Ireland since 12 July.
Senior investigating officer Supt Sean Wright said it had a wide remit.
"Operation Titan was set up to focus on the disorder from 12 July and whatever disorder takes place during throughout the summer arising from parades and public protests," he said.
"This covers a variety of incidents, breaches of Parades Commission rulings, the attack on the lord mayor and events at an internment bonfire, all of those now come under the remit of Operation Titan.
'Intent on violence'
"So far 90 people have been arrested, 66 of whom have been charged and brought before the courts."
At a press conference on Monday, police released images of 18 people who were involved in recent disorder in east Belfast.
Earlier, a senior PSNI officer said it was clear to police early on Friday evening that loyalists opposing a republican parade were intent on violence.
Assistant Chief Constable George Hamilton said none of the loyalist protest groups seemed to show any leadership to stop the violence.
"It was pretty clear to us from about half past five on Friday that there was a significant number, probably the majority of people on Royal Avenue, determined not to engage properly with the police, but probably had some violent intent," he said.
"There was no semblance of any organisation or co-ordination or leadership from any protest group, we just couldn't see it.
"We didn't see at any point, and we were monitoring it all week as you can imagine, any mobilisation to protest in a way that people had notified to the Parades Commission, it just simply didn't happen.
'Good morale'
"Instead what we saw was chaos, disorganisation and violence being meted out against our officers."
ACC Hamilton said he did not think there had been too few police at the protests, saying there were "only so many police officers you can put into Royal Avenue".
He said he was amazed how frontline officers were able to maintain good morale despite the violence.
"The resilience and the tenacity of our rank and file officers simply amazes me, I am extremely proud of them," he said.
"We had 56 officers injured on Friday night, several of them with significant enough injuries, who were insisting on going back on the frontline.
"Many of those people, even those who left the frontline on Friday night, were back at work at half past five on Saturday morning to travel to Derry/Londonderry to uphold other people's rights to parade around the city."