Belfast loyalist protesters 'were intent on violence'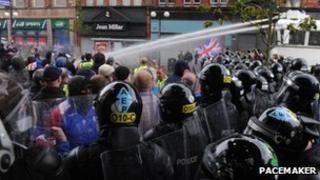 A senior PSNI officer has said it was clear to police early on Friday evening that loyalists opposing a republican parade were intent on violence.
Fifty-six officers were injured during the trouble in Belfast city centre.
Police fired 26 plastic bullets and made eight arrests on Friday night amid sustained rioting in Royal Avenue.
Assistant Chief Constable George Hamilton said none of the loyalist protest groups seemed to show any leadership to stop the violence.
"It was pretty clear to us from about half past five on Friday that there was a significant number, probably the majority of people on Royal Avenue, determined not to engage properly with the police, but probably had some violent intent," he said.
"There was no semblance of any organisation or co-ordination or leadership from any protest group, we just couldn't see it.
"We didn't see at any point, and we were monitoring it all week as you can imagine, any mobilisation to protest in a way that people had notified to the Parades Commission, it just simply didn't happen.
"Instead what we saw was chaos, disorganisation and violence being meted out against our officers."
ACC Hamilton said he was amazed how frontline officers were able to maintain good morale despite the violence.
"The resilience and the tenacity of our rank and file officers simply amazes me, I am extremely proud of them," he said.
"We had 56 officers injured on Friday night, several of them with significant enough injuries, who were insisting on going back on the frontline.
"Many of those people, even those who left the frontline on Friday night, were back at work at half past five on Saturday morning to travel to Derry/Londonderry to uphold other people's rights to parade around the city."
Parades Commission chairman Peter Osborne said Friday's violence in Belfast stood in marked contrast to a peaceful parade in Londonderry on Saturday.
"On Saturday 5,000 Apprentice Boys held their annual parade in Derry/Londonderry without rancour and with a sense of celebration and cooperation," he said.
"By contrast on Friday we witnessed in Belfast scenes of unwarranted lawlessness by people intent on violence. No excuses justify the violence."