Release of Troubles' killings documents sparks legal row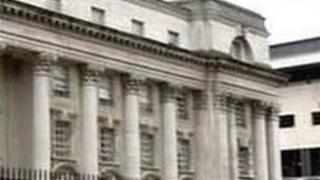 A decision by Culture Minister Carál Ní Chuilín to release documents related to three historic Troubles killings has sparked a high level legal dispute.
The secretary of state and the chief constable went to court over the weekend in order to stop the papers being circulated.
They want sensitive details which could identify security force members removed before the documents are released.
The case is due before the High Court again on Monday.
The documents concern three Troubles' deaths - IRA man Paddy McAdorey who was killed by the Army in 1971, social work student Michael Donnelly killed by a plastic bullet in 1980 and Sadie Larmour murdered by loyalists in 1979.
The campaign group Relatives for Justice and lawyers Kevin Winters wanted inquest and trial papers held in the Public Records Office.
On Friday, Ms Ní Chuilín, whose department oversees the Public Records Office (PRO), personally handed them over.
Mark Thompson from Relatives for Justice said they were not secret documents
"These are public documents released to the PRO sought under the freedom of information - there's nothing sensitive," he said.
"These documents relate to inquest hearings and court trials concerning people that stood trial for murders and we're bewildered at the actions of the chief constable and the secretary of state in this instant.
"We can't understand it and the families are seeing it as a direct attack on them to seek basic information about the killings of their relatives.
"They're upset about it but they also see it as an interference in the wider democratic process."
But Secretary of State Teresa Villiers and Chief Constable Matt Baggott believe the papers should not have been released without the removal of the sensitive information.
Justice Minister David Ford said it was unclear, what, if any, sensitive information, had been removed.
"Last Friday I wrote to the culture minister pointing out the urgent necessity of having discussions about the issue and ensuring that there were full redactions to protect ongoing police investigations and potential issues under the European Convention on Human Rights (ECHR)," he said.
"I'm extremely disappointed that she doesn't seem to have taken any advice from my department, or the police, and has gone ahead and issued those documents.
"At this stage unclear exactly what redaction she applied."
A judge granted an order preventing the documents being circulated, at a late night hearing over the weekend.