Newry Orange hall damaged in attempted arson attack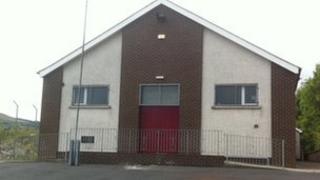 An Orange hall in County Down has been damaged in an attempted arson attack.
The roof of the Robert L Mitchell memorial hall on Downshire Road, Newry, was scorched, after roof tiles were removed from the building.
Paint was also thrown across the front of the hall during the attack, which is believed to have taken place between Friday night and Saturday morning.
A police spokeswoman said officers were investigating a report of attempted arson and criminal damage.
'Sectarian attack'
In a statement, the Orange Orange said vandals had attempted to set the hall on fire using newspapers.
The order's District Master Jonathan Wharton said: "This was a blatant sectarian attack and those who carried out the wicked deed, under the cover of darkness, should be ashamed of their actions.
"Not content with their wanton vandalism, they clearly desired to reduce this long established and historic building to nothing but rubble and ruin - fortunately, they did not succeed.
"If the culprits cared to look beyond their narrow-minded sectarian actions, they might realise that this district hall is actually used by a wide selection of community groups.
"Indeed, it was those attending the weekly credit union who raised the alarm," Mr Wharton added.
He appealed to anyone who had information about the attack to contact police.