Ten days of 'love games' in Northern Ireland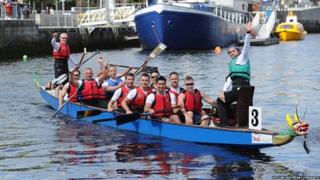 While riots and street disorder have exposed the dark side of Belfast, the World Police and Fire Games have shown that there is more love than hate in the city.
The 10 days of sport were nicknamed the "love games", and not just because four competitors got engaged while in Belfast.
The enthusiastic welcome from the people across the city was appreciated by the international athletes and the unusually good weather added to the warmth.
As one medal-winning Australian athlete put it: "Everywhere we went, we got the red-carpet treatment. And if they couldn't find us a carpet, they made sure they bought us a pint."
In spite of the recent street disturbances over parades, Northern Ireland is quickly building a glowing reputation for international event-hosting.
The most recent example was the G8 summit in Enniskillen, County Fermanagh.
There have also been the MTV music awards in Belfast, Londonderry's year as UK City Of Culture and golf's Irish Open in Portrush.
The tag of "war-torn Belfast" is hard to shake off, and ongoing violent incidents reinforce the stereotypical image of the city.
However, another story is now being told by people who have been on city breaks or at one of the recent international events.
It is a story about a city that is moving forward in spite of efforts by a small minority to pull it back.
On the first day of the World Police and Fire Games, I bumped into an American prison officer who normally spends his day supervising death row inmates at a high-security jail.
He said he could not wait to tell his friends back home about his time in Northern Ireland.
In fairness, anything would probably be better than going back to his day job but he was so bowled over by Belfast he extended his stay by an extra week.
I met a French firefighter who rang home after two days to tell his family to come over and join him at the games' closing ceremony, as he was enjoying the city so much.
They had been reluctant to join him, but he assured them it was safe.
In total, almost 7,000 men and women from 67 different countries competed in the games. Many of them also brought supporters.
For most, it was their first time in Belfast. For many, it may not be their last.
Like all big events, it was by no means perfect.
In advance of the games, organisers kept insisting they could attract 10,000 competitors. They ended up 3,000 short of that number.
Billed as the "friendliest games ever", it was not a great start when the referee in an over-35s football match between Marbella Police and the Police Service of Northern Ireland was forced to abandon the game after sending off two Spaniards.
Nonetheless, once everyone had cooled down, apparently the teams retreated to the bar for a conciliatory beer.
The police officers, prison officers and firefighters from across the world competed in 56 different sports at 42 different venues, from boxing at the Ulster Hall in Belfast to beach volleyball in Portrush.
There was quite a bit of cynicism before the games, which cost £14m to organise, but many of the sceptics were won over.
The competitors brought a buzz to Belfast and a number of events attracted large crowds, especially the ice hockey which produced the best team name of the games - a group of US firefighters called the Las Vegas Guns and Hoses.
It is difficult to completely extinguish Belfast's negative image abroad, but the games certainly helped.
As for the four competitors who got engaged, they have now found the perfect place for their honeymoon.