SDLP 'rift' over Uganda trip selection process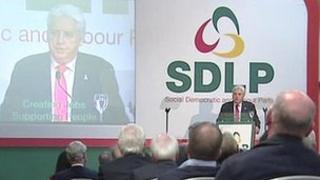 A rift has emerged between the SDLP's youth wing and the party leadership over a selection process used to choose delegates for a paid trip to Africa.
The disagreement centres on how delegates were picked to represent the SDLP at a workshop in Uganda.
In a letter to the party's general secretary, the SDLP youth executive claimed it was involved in running the application process for the trip.
But it said the positions were filled before the process had run its course.
The letter said: "We believe there has been a breach of privilege by the party leadership in completely contravening an application process for which the deadline hadn't passed.
"We are requesting that the general secretary and the party executive members urgently review this situation."
The row could be seen by some as tainting the party's drive to encourage youth involvement.
Party leader Alasdair McDonnell recently said "youth" was one of the main reasons behind appointing Mark H Durkan as environment minister at the assembly, describing him as part of the "emerging generation of the SDLP".
The letter of complaint from the youth executive said: "We understand the application process was put in place to allow all long-standing party members the opportunity to go on trips and to have experiences."
Complaint
It claimed that process was not properly followed.
The weekend trip to Kampala, the Ugandan capital, is being organised by the Westminster Foundation for Democracy (WFD), a Foreign and Commonwealth Office sponsored body that aims to promote democracy. Mr McDonnell is a patron of the foundation.
The WFD told the BBC that three members of the SDLP are scheduled to make the trip at the end of the month to attend a workshop promoting party membership in Uganda.
The SDLP said it did not want to comment on the complaint from its youth wing.
A party spokesperson said the letter had been originally posted on a private membership Facebook page.
"It's an internal party matter, so we will not be commenting any further," she added.
The letter was signed "on behalf of the Youth Executive" by Daniel Hendrie, the SDLP Youth International Secretary. When asked about the letter, Mr Hendrie said: "This is an internal matter and I have no comment to make."