Pipe bomb made safe by Army in Lisburn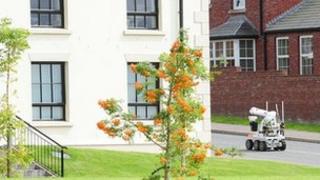 A pipe bomb has been made safe by the Army in Lisburn, County Antrim.
The device was found at Lady Wallace Crescent in the city on Friday morning.
A number of homes were evacuated and Army bomb disposal experts sent to the scene.
Lady Wallace Avenue was closed between Pond Park Road and the Prince William roundabout.
The road has now reopened and residents have been allowed to return.