Man arrested at Belfast airport after mid-air flight disturbance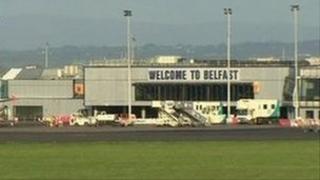 A 20-year-old man from Lurgan, County Armagh, was arrested at 04:45 BST on Friday at Belfast International Airport after causing a disturbance on a flight from Turkey.
He was restrained by passengers after becoming violent on the flight.
He has since been released pending further inquiries.
Ivan Moore, who was on the flight, was helped by another man to restrain and handcuff the passenger into his seat when he refused to calm down.
Mr Moore said the man, who was sitting in the row behind him, had become disruptive about 45 minutes into the flight.
"The air hostesses asked him to sit down but he was shouting and lashing out," he said.
"When he refused to behave, myself and another passenger intervened.
"We leaned over him and restrained him. The airline staff said they had handcuffs and restraints and we asked them to bring them to us.
'Smell the fear'
"After they had been put on, we tried to pacify the man and kept a watch over him for the rest of the flight."
Mr Moore said his concern was to try and get the man calmed down so the flight would not have to return to Turkey.
"It was like something out of a movie," he said.
"I just didn't expect it to happen in real life.
"You could almost smell the fear in the cabin, it affected the women and children more.
"Some of the passengers were very upset."
Mr Moore said police and an ambulance crew were waiting when the flight landed at Aldergrove.
"The man was unconscious at this stage, so the passengers were removed from the flight while paramedics assisted the man," he said.
Mr Moore was returning from his holiday in the Turkish resort of Dalaman with his wife and son, and his best friend and his family.
"Everyone applauded when the flight touched down in Belfast, the passengers were relieved to be home safely."
A spokesperson for Thomas Cook Airlines said: "We operate a zero tolerance policy towards any disruptive or aggressive behaviour on board our aircraft which may affect the health, safety and well-being of other passengers and our crew.
"The safety of all passengers and crew is always a priority and Thomas Cook Airlines is compliant with regulations issued by the Civil Aviation Authority."