McGuinness: Castlederg republican parade 'dignified and lawful'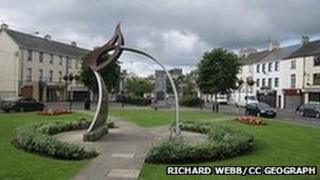 Sinn Féin's Martin McGuinness has said a controversial republican commemoration in County Tyrone on Sunday will be "dignified and lawful".
The parade will commemorate dead IRA members.
The organisers have refused to call it off in spite of appeals from victims' families, the secretary of state, unionist and other politicians.
Mr McGuinness said a protest against an Apprentice Boys feeder parade in Castlederg on Saturday has been halted.
The decision was made after meetings in Castlederg on Thursday night involving local republicans and Mr McGuinness, the deputy first minister.
"This is a genuine attempt to de-escalate tensions in the town and it would be my hope that it contributes to a peaceful weekend in Castlederg," the Sinn Féin MP for West Tyrone, Pat Doherty, said.
'Sympathy'
Mr McGuinness said people should "respect the right" of republicans in Tyrone in their act of remembrance on Sunday.
"I have tremendous sympathy for all victims of the conflict and there have been victims on all sides," he said.
"There has been political manipulation.
"I don't have any other reason to believe that Sunday will not be peaceful, it's not a celebration, it's an act of remembrance."
Mr McGuinness was asked during an interview on BBC Radio Foyle why republicans could not cancel the parade on Sunday after taking the decision to call off the protest on Saturday.
"Sunday's event is not a protest," he said.
The deputy first minister said he would not be at the event in Castlederg on Sunday.
"I'm on holidays and I'm entitled to a break," he said.
"Sinn Féin representatives will be there to make sure things pass over peacefully."
On Thursday, Secretary of State Theresa Villiers met with a victims' group opposed to the parade in Castlederg.
She said legal powers to ban the parade were "restricted and narrowly defined".
'Deeply insensitive'
Ms Villiers said the "criteria set out in legislation that would enable me to intervene are not satisfied in this case".
She said the Tyrone Volunteers Day Parade was "deeply insensitive" and was causing great distress to many victims of terrorism.
The Derg Valley Victims Voice was accompanied by unionist politicians during the meeting.
They had called on the secretary of state to ban the parade or at least condemn it.
They say it will glorify terrorism and traumatise families affected by IRA violence.
DUP MLA Arlene Foster accompanied members of the victims' group to the meeting.
She said the parade was damaging community relations and was grossly offensive to the families of the 29 people who were murdered by the Provisional IRA (PIRA) in the Castlederg area.
Sinn Féin's Barry McElduff said Ms Villiers should stay out of parading issues.
The Parades Commission has re-routed the parade away from the town's war memorial, but did not ban it.