Northern Ireland Housing Executive 'running reduced service'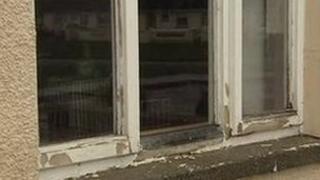 The Housing Executive has said it has been forced to run a reduced repair service in some areas after the collapse of two contractors this year.
The housing body said it has not been able to deal with around 1,000 requests for repairs.
The contractors that collapsed were responsible for repairs reported by tenants in eight districts.
The executive has said as a result of their collapse it has had to run a reduced repairs service in three areas.
They are Craigavon, County Armagh, the Shankill in west Belfast and in south Belfast.
Because of the mounting backlog more than 200 staff have now transferred from the contractors to the Housing Executive's own staff.
Apologising to tenants for the delay, the Housing Executive said it was treating the backlog as a priority and would endeavour to carry out the outstanding work as soon as possible.
In a statement, housing minister Nelson McCausland said: "Contracts are an operational matter for the Housing Executive."
He said he had been advised that the executive had "put in place arrangements to ensure continued delivery of services to tenants".