Villiers 'unable to ban Castlederg republican parade'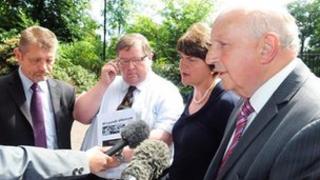 Secretary of State Theresa Villiers has urged the organisers of a republican parade in County Tyrone to call it off, but said she is unable to ban it.
Ms Villiers was speaking after meeting with a victims' group opposed to the parade in Castlederg on Sunday.
"On the issue of legal powers to ban the parade, these are restricted and narrowly defined," Ms Villiers said.
"The criteria set out in legislation that would enable me to intervene are not satisfied in this case."
She added: "I realise that will disappoint many but I am bound by the law.
"That in no way diminishes my profound sympathy for the victims. I heard harrowing stories today from people who continue to grieve for loved ones and who have never received justice."
Ms Villiers said the Tyrone Volunteers Day Parade, which commemorates dead IRA members, was "deeply insensitive" and was causing great distress to many victims of terrorism.
"This parade is damaging to community relations and even at this late stage I would call upon the organisers to think again and call it off."
'Duplicity'
The Derg Valley Victims Voice was accompanied by unionist politicians during the meeting.
They had called on the secretary of state to ban the parade or at least condemn it.
They say it will glorify terrorism and traumatise families affected by IRA violence.
DUP MLA Arlene Foster, who was at the meeting, said Sunday would see Sinn Fein duplicity reach a staggering level.
"On Sunday, Sinn Fein in Omagh will stand against the actions of terrorists where 29 innocent people were murdered by a car bomb, yet a few miles down the road in Castlederg the same Sinn Fein MLAs will hold a parade to honour Provisional IRA car bombers," she said.
"Could someone in Connolly House explain the difference between the terrorists who murdered in Castlederg and the terrorists who murdered in Omagh?
"The parade is damaging to community relations and grossly offensive to the families of the 29 people who were murdered by the PIRA in the Castlederg area."
Sinn Féin's Barry McElduff said Ms Villiers should stay out of parading issues.
"Ms Villiers has outlined her partisan objections and further endorsed the view that there are a hierarchy of victims when it comes to the conflict in Ireland," he said.
"Sinn Féin believe that there can be no hierarchy of victims and that we all should have the opportunity to remember our dead."
The Parades Commission has re-routed the parade away from the town's war memorial, but did not ban it.