Stolen loyalist painting put on nationalist bonfire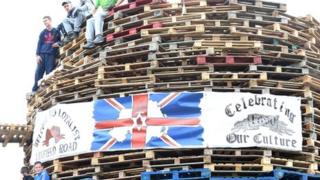 A loyalist painting stolen from a wall in south Belfast was placed for a time on a nationalist bonfire.
The painting was placed on the bonfire in the nearby Divis area, heightening community tensions, before later being removed.
A female Belfast newspaper journalist said on Twitter that she had been attacked at the Divis bonfire site on Thursday.
Allison Morris of the Irish News said she had been attacked with bottles.
She tweeted: "Just got attacked with bottles by a bunch of drunken rabble at the Divis bonfire site, tourists looking on shocked."
West Belfast MP Paul Maskey condemned the attack and said: "The attack on a journalist from the so-called guardians of the Divis bonfire is a disgrace. They are celebrating nothing but disrespect."
The theft of the painting, which was designed by a young girl from Sandy Row, happened in the Linfield Road area at around 23:45 BST on Wednesday.
'Tensions'
Michael McGimpsey, UUP MLA for South Belfast, said: "I was very concerned when I was informed of the theft of the mural from the Linfield Road in Sandy Row. Its removal has caused a great deal of annoyance and hurt in the local community.
"I am calling on those who removed the mural and placed it on the bonfire to return it immediately.
"The intentions of the people involved were clearly to heighten community tensions during a period that is already sensitive."
Police are investigating the theft and are engaging with local community representatives in both areas in an attempt to reduce tensions and resolve the issue.
They have appealed for anyone with information on the theft to contact them.