McErlain's bakery creates 100 new jobs in Magherafelt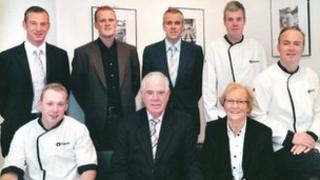 A family-run bakery firm in County Londonderry is creating 100 jobs in a major expansion of its business.
McErlain's bakery in Magherafelt is run by six brothers, who are all bakers.
They produce a range of bread and cakes under a brand called Genesis Crafty. They also supply "own brand" goods to major supermarkets.
They are investing £1.4m in their business, and have already filled 35 of the posts. The remaining 65 jobs will be created over the next two years.
One of the brothers, Brian McErlain, said they have doubled their turnover and workforce in the last four years, and they hope to fill about 30 of the new positions over the next few weeks.
The firm was established by their parents in 1968 and all but one of the couple's seven children followed them into the business.
The six brothers, now aged between 36 and 52, are all involved in the day-to-day running of the Magherafelt bakery.
'Positive boost'
Brian McErlain, a managing director, said most of the new jobs would be in bakery production but three or four would be management positions.
The company is recruiting a brand manager and an account manager to help boost sales and awareness of the Genesis Crafty brand across the UK and the Republic of Ireland.
The investment will bring the firm's total workforce to 285.
It also plans to buy new machinery and extend the product development area in its existing bakery, where it will test recipes for new breads and pastries.
As well as the Genesis Crafty products, McErlain's bakery also supplies baked goods to large retailers for sale under the retailers' own brand. One of their clients is Marks and Spencer.
The investment and new jobs have been welcomed by Enterprise Minister Arlene Foster as a "positive boost for the local community in Magherafelt".
Speaking after a visit to the company's premises, Mrs Foster said: "Bakery is a well established and intensely competitive sector so this investment is very welcome news for the food industry, a key contributor to Northern Ireland's economy."
The DUP minister added: "This project demonstrates McErlain's clear desire to innovate and grow its sales outside Northern Ireland."
'Export business'
The firm has been awarded £352,000 towards its planned investment by Stormont's Department of Agriculture and Rural Development (DARD), under its EU processing and marketing grant scheme.
It has also been offered £53,000 from Invest NI, to support its new marketing strategy.
Mr McErlain said: "We recognise the need to further expand our sales beyond Northern Ireland and have focused on developing new innovative products and enhancing our branding, sales and marketing in a bid to secure new export business.
"Support from DARD and Invest NI is helping us enhance our production and marketing capabilities to meet the demand of new customers and cement our position within the highly competitive bakery industry."