Police release east Belfast 12 July riot review details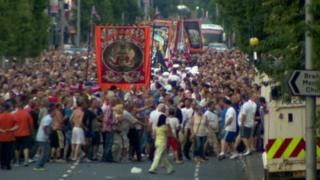 The police have released findings of a review into violence which happened during an Orange Order parade in east Belfast on 12 July.
Senior officers met with the leaders of the DUP and UUP to discuss concerns over the policing operation for the return parade on the Newtownards Road.
Missiles were thrown by people on both sides of the Newtownards Road/Short Strand sectarian interface.
A number of children associated with the parade were among those injured.
Among the findings of the review were:
Tensions in east Belfast on 12 July were increased by the unknown and unpredictable nature of the Orange Order protest activity.
The 'stalling' of the return parade for 53 minutes led to uncertainty that added to the challenges of the policing operation.
The 'stalling' of the parade and sectarian chanting for over 15 minutes by some associated with the parade as it passed Short Strand also increased tension.
A large number of people associated with the parade as participants and spectators, including a number of young children, received injuries as a result of missiles being thrown from the Short Strand. This included a large number of bottles, paint bombs and stones.
The numbers involved in this attack from the Short Strand and the quantity of 'missiles' available indicated a high likelihood of preplanning.
There were also a large number of missiles thrown from the Newtownards Road into the Short Strand area.
The number of public order police deployed in the Short Strand was such that there was some delay in containing the attack on the parade.
In attempting to contain the violence that ensued police officers came under sustained attack from both sides and 13 police officers were also injured.
'Shortcomings'
Earlier the DUP and Ulster Unionist leaders, Peter Robinson and Mike Nesbitt, said the PSNI had admitted shortcomings in their operation.
They said it was "incumbent upon the PSNI to ensure those peacefully celebrating culture are protected".
Responding to the joint statement Sinn Féin councillor Niall Ó Donnghaile said unionists were attempting to blame the residents of the Short Strand for the violence in east Belfast on 12 July.
"Through their selective accounts of the PSNI report on the day they have once again failed to show leadership," he said.
Mr Robinson and Mr Nesbitt also called for discussions in September to resolve the summer's tensions over parading.
They want talks with community and parading representatives.
The discussions would be held in advance of inter-party talks chaired by the former US envoy Richard Haass.
Both leaders have also called for a peaceful reception for the Apprentice Boys of Derry parade on Saturday.