Kingsmill inquest 'first step' to justice says victim's brother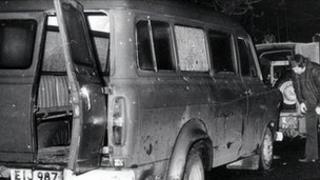 The brother of one of the men killed by the IRA in the Kingsmill massacre has said the ordering of a new inquest is the first step on the road to justice.
Colin Worton's 24-year-old brother Kenneth was one of 10 men who died in the south Armagh gun attack in 1976.
He said: "For me to feel happy and for the families to feel vindicated, somebody has to serve time in jail."
Following their campaign for justice, the attorney general has ordered the coroner to proceed with a new inquest.
Mr Worton told BBC Radio Ulster: "Justice means nothing unless these animals, and that's what they were, these animals that carried out this killing have to serve time in jail.
"It's not up to me to (decide) the length of the sentence, but I believe they have to be named and shamed and spend time in jail."
Ambushed
The 10 victims were textile workers who were travelling home together from their jobs at a factory in Glenanne, south Armagh, on 5 January 1976.
The minibus they were travelling in was ambushed by a gang of 12 gunmen on a rural road near the village of Kingsmill.
The gang ordered the workers out of the vehicle and demanded to know the religion of each man.
Eleven men who identified themselves as Protestants were immediately shot, while the only Catholic man on the bus was ordered to run away by the gang.
One of the victims, Alan Black, survived despite being shot 18 times, but 10 men died.
The IRA never admitted involvement and responsibility for the murders was claimed by a group calling itself the South Armagh Republican Action Force.
However, an investigation into the attack by the Historical Enquiries Team (HET) concluded in June 2011 that the IRA were responsible for the attack and that the paramilitary group had targeted the men because of their religion.