West Tyrone victims group in Castlederg parade meeting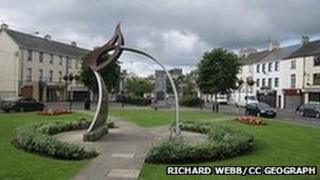 A victims group from west Tyrone is to meet Secretary of State Theresa Villiers later to express opposition to a republican parade in Castlederg.
The DUP's Arlene Foster will be among the politicians accompanying them at the meeting.
Sinn Féin are supporting the Tyrone Volunteers Day Parade which is due to take place on Sunday.
Unionist politicians have called on the secretary of state to ban the parade or at least condemn it.
They say it will glorify terrorism and traumatise families affected by IRA violence.
A victims group from west Tyrone - the Derg Valley Victims Voice - will put their viewpoint directly to Theresa Villiers.
But the secretary of state is believed to be reluctant to intervene directly in the issue.
Ulster Unionist leader Mike Nesbitt has expressed his disappointment that Ms Villiers will not use the 2006 Terrorism Act to ensure the parade is banned.
Speaking on Wednesday he said: "I spoke to Theresa Villiers this afternoon and she made clear her interpretation of the Terrorism Act is that glorifying terrorism is only illegal if the statements made are intended to encourage people to emulate past terrorist actions.
"Are we seriously saying that in the United Kingdom, people can celebrate the terrorist attacks on the USA on 9/11 just as long as they do not encourage anyone to do it again?"
The DUP's Mrs Foster said: "Whilst the secretary of state can only ban the parade on the recommendation of the chief constable, I would urge her to speak out against this event.
"The fact that anyone would seek to organise a parade glorifying terror and crime anywhere in the United Kingdom is a public disgrace. In the name of public decency, I will be asking the secretary of state to do the right thing."
Ms Villiers is talking to all those involved behind the scenes.
Sinn Féin has said the parade is not a glorification, but a solemn commemoration and that republican rights to remember their dead should be respected.