New inquest into Kingsmill murders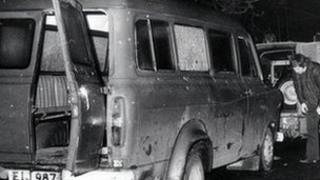 There is to be a new inquest into the deaths of 10 Protestant workmen murdered by the IRA in the Kingsmill massacre in 1976.
The murders of the textile workers in County Armagh were among the most shocking of the Troubles.
Following a campaign for justice, the attorney general has ordered the coroner to proceed with a new inquest.
Kevin Winters, a solicitor acting for the sister of victim John McConville, said this was welcome news.
However, he expressed concerns about adequate resources being made available to the coroner as there is a backlog of historical cases - 36 inquests which involve 63 deaths.
The coroner John Leckey, in a letter to the solicitor, was unable to give a timescale for the Kingsmill inquest due to workload and others issues.
Ulster Unionist MLA Danny Kennedy is to press the justice minister to provide more resources.
"This is a welcome development in pursuit of obtaining maximum justice for the relatives of Kingsmill," he said.
"However, given the current workload indicated by the senior coroner, it is vital that this inquest should be brought forward to the earliest possible date."
The DUP's Jeffrey Donaldson welcomed the inquest but said only justice would bring any closure to the families.
"The inquest will examine the circumstances of this terrorist act and the causes of death but will not have the power to arrest or follow up on new lines of inquiry," he said.
"The Kingsmill families have not seen anyone brought to justice for this heinous crime. This inquest, whilst helpful in re-examining the circumstances, will not lead to prosecutions."
The SDLP's Dominic Bradley also welcomed the news.
"The families of the victims have the right to the truth of what happened on the night their loved ones were murdered and where possible to the prosecution of anyone proven to be responsible in any way," he said.
Murdered on way home
On 5 January 1976, the textile workers were travelling home in rural County Armagh.
Just after the van cleared the rise of a hill, there was a man standing in the road flashing a torch.
The van stopped and 11 other men, all armed, emerged from hedges around the road.
A man asked their religions. There was only one Catholic left on the bus. He was identified and ordered away from his Protestant workmates and ran off.
The gunmen then opened fire.
One man, Alan Black, survived despite being shot 18 times.
The IRA never admitted involvement and was supposed to be on ceasefire at the time.
The name South Armagh Republican Action Force was used to claim the murders.