12 July Woodvale riots: Man faces murder attempt charges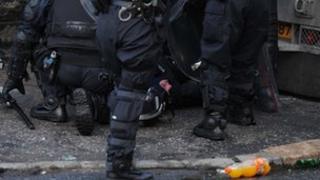 A man has been charged with the attempted murder of a police officer over an incident during rioting in north Belfast.
The charge is linked to disturbances in the Woodvale area on 12 July.
The man was arrested in the Alliance Close area on Wednesday morning, and has also been charged with possession of an offensive weapon with intent to commit murder.
He will also face a charge of riotous behaviour.
The accused is expected to appear in court in Belfast on Thursday.
Violence flared on 12 July as police enforced a ban on an Orange Order march past Ardoyne shops.
A Parades Commission ruling prevented three lodges walking along a stretch of the Crumlin Road that separates loyalist and nationalist communities on the return route of their annual parade.