Mallusk M&S warehouse jobs at risk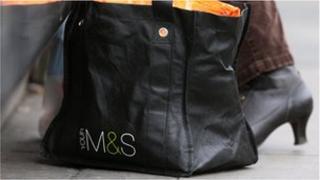 One hundred and forty jobs are at risk as Marks & Spencer close their distribution centre at Mallusk in Newtownabbey, County Antrim.
The Hydepark distribution warehouse is run on the retailer's behalf by freight and distribution company DHL.
That contract accounts for more than half of the jobs at the site.
Marks & Spencer have said that from the start of next year, distribution will take place from England and Scotland.
Sean Smyth, from the Unite union, said Mallusk was now "surplus to requirements" after a new M&S site in England was completed.
"We've been asking about it for two years and for two years they've been denying it," he said.
"I'm sorry to say that today we're being proven right.
"The cross-checking will still be done here - anything that needs to be checked and priced or labelled differently, will still be done here.
Stores closure
"What happened was that we held stock in the warehouse and the shops would order directly from the warehouse - that's now getting done in England."
A spokesperson for Marks & Spencer said: "M&S is changing, becoming a more efficient, international, multi-channel retailer.
"As a result we have to reorganise our supply network and, as part of that work, we have made a proposal today to cease the warehouse operation at the Hydepark distribution centre."
The news comes as M&S announce the closure of four stores in the Republic of Ireland that will result in the loss of 180 jobs.
The company, which is in the process of restructuring their business both north and south of the border, said the stores are unprofitable.
A spokesperson for DHL Supply Chain said affected staff had been informed of the situation and would shortly enter into consultation to discuss their options.
"Both Marks & Spencer and DHL thank the team at Hydepark for their ongoing dedication and stress that the decision in no way reflects on the quality of work at the site," the spokesperson said.
"DHL will continue to work closely with Marks & Spencer to mitigate disruption to our colleagues during this difficult time."