Secretary of State Theresa Villiers tackles parades tension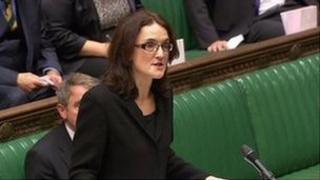 The Secretary of State for Northern Ireland, Theresa Villiers, has cut short compassionate leave to deal with tensions over parades in Castlederg, County Tyrone.
Ms Villiers' father died last month and she was not yet due to return to work.
However, rising political tensions have meant she has returned to her role.
Ms Villiers had been comforting her mother Anne after the death of her husband, George Edward Villiers.
This weekend Castlederg will be the scene of a loyal order parade and a republican commemoration.
The Tyrone Volunteer's Day parade on Sunday will commemorate the county's republican dead, including two IRA members killed by their own bomb in 1973. The parade is backed by Sinn Féin.
However, unionists have described the parade as "grossly insensitive" and say it should not be allowed to go ahead.
UUP leader Mike Nesbitt, who spoke to Ms Villiers on Wednesday, said he was deeply disappointed the secretary of state will not use the Terrorism Act to deal with the Castlederg commemoration.
'Totally insensitive'
"The Ulster Unionist Party will now consider what remaining avenues remain open to stop the glorification of terrorism planned for Castlederg this Sunday," he said.
"Should the parade go ahead, we call on everyone, whether they are participants, spectators or protesters, to behave in a lawful, peaceful and respectful manner."
The secretary of state was also due to hold telephone conversations on Wednesday with Chief Constable Matt Baggott and Justice Minister David Ford.
SDLP MLA for West Tyrone, Joe Byrne, said the republican march is "totally insensitive".
"Given the grave concerns that are developing over the Castlederg parade that is scheduled to take place on 11 August, sensible people are asking for political intervention at the highest level to deal with the issue," he said.
"It is now imperative that all political influence must be used to de-escalate the potential situation."
The Parades Commission's determination re-routes the parade to avoid a war memorial in the Diamond.
On Saturday, there is also an Apprentice Boys parade in the town which has been re-routed, and a Sinn Féin protest.
A delegation of victims from west Tyrone and unionist politicians including Arlene Foster will meet Ms Villiers in Stormont on Thursday to call for the republican commemoration to be banned.