A Northern Ireland Ramadan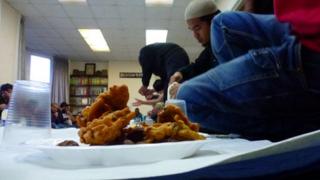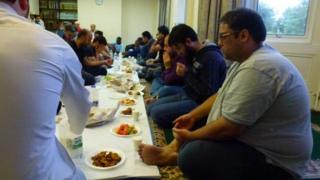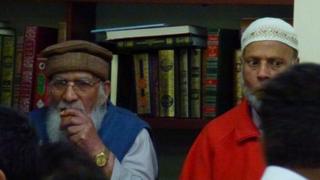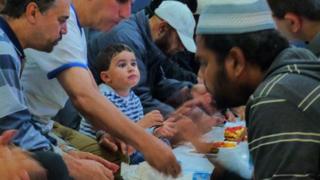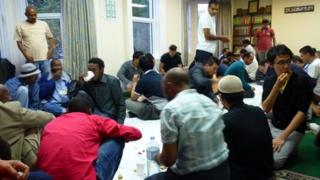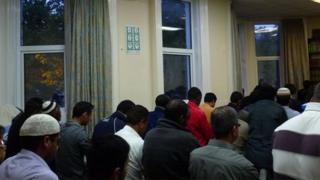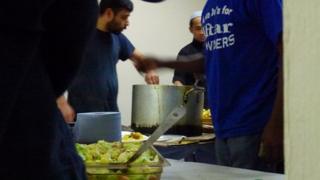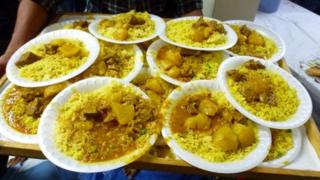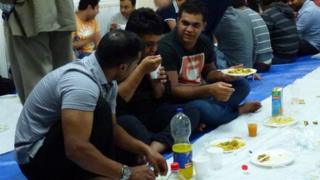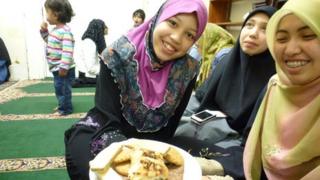 It's 22:00 and time to feast at south Belfast's Islamic Centre and plates of food are passed between people sitting on the ground.
The evening meal is a kind of literal break-fast for the Muslims here, who have been observing Ramadan.
In this holy month, they must not eat, drink or smoke during daylight hours.
But sunrise to sunset is a longer, more difficult time in Northern Ireland than in most of the world's Muslim countries - simply because it lies so far north.
During Ramadan at this latitude and at this time of year, Muslims must fast between roughly 03:00 and 22:00 BST.
So how does it affect them?
Temper
Gulnaz Amjad is a practising Muslim who sells nutritional supplements and offers dietary advice.
"In hot weather dehydration is important and it probably is happening because we aren't able to consume so much water in the hours that we are allowed to eat and drink," she said.
"Tiredness would set in and with tiredness comes temper.
"I suppose obviously you will be hungry at some point but to be quite honest I haven't felt so hungry at all."
Like Mrs Amjad, some of Northern Ireland's 4,000 Muslims grew up here. Others have moved here from more than 40 countries worldwide.
But their countries of origin - places like Egypt, Malaysia, Somalia and Saudi Arabia - tend to have shorter days than Northern Ireland.
Dr Mazhar Khan, a trustee of the Belfast Islamic Centre, used to live in Pakistan.
There fasting began at 04:00 at the earliest and ended at 19:30 at the latest.
Moving to England, he saw his fasting day extend, and when he came to Northern Ireland, it jumped again to 19-and-a-half hours at the longest.
Yet Dr Khan and other Muslims say they find it easy to fast for such long periods of time - working or studying or playing sports - because they are used to it.
'We would compete'
Young children do not have to fast, but they do train for Ramadan by denying themselves food for half days at a time.
Fourteen-year-old Jawaria said when he was younger she would try to out-fast her siblings.
"We would be like, I'm gonna fast, who can fast the longest?," she said.
"We would egg each other on! Now we're just kind of used to it."
Iraqi physicist Dr Raid al-Wazad, who has lived in Northern Ireland for 23 years, said Ramadan means a change to his daily routine.
"I wake up at 07:00 BST and go to work, and then leave work at 18:00 BST. I go home and have a couple of hours' sleep until 21:00.
"I wake up, come to the mosque, have breakfast and then stay here and have the night prayer until about 00:00.
"Then I go home, sleep for another two hours, then wake up before the dawn, eat another meal, then sleep again until 07:00 and so on."
Sharia Law
But of course, there are Muslims living much further north than Northern Ireland.
In Iceland, northern Sweden and other parts of the Arctic Circle there are times when the sun doesn't go down at all.
In those places, Sharia (Islamic) Law scholars, have come up with a few solutions, the most workable being to follow the timings of the nearest Muslim country.
Ramadan is calculated according to the months of the moon, not the sun, and so it changes each year.
While Ramadan will still fall in summer next year, in a few years' time Muslims in Belfast and around Northern Ireland will observe it in the winter months and the days will be just eight hours long.