Conall McDevitt's assembly expenses paid to wife's company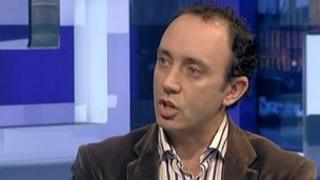 The BBC has learned that the SDLP MLA Conall McDevitt claimed more than £14,000 in expenses paid to a company set up by his wife.
The South Belfast MLA has confirmed payments were made to his wife's company, JM Consulting.
However, he said she did not personally receive any of the money.
For 2010 and 2011 JM Consulting was paid significant sums of money for what was described as 'research and secretarial' work.
JM Consulting is Joanne Murphy Consulting - she is a Queen's University academic and also Mr McDevitt's wife.
But according to the assembly register for both years, when asked if any family member had benefited from office expenses Mr McDevitt said no.
That statement has now been amended and the register now states: "My wife has an interest in a company that has provided research services to me in my capacity as an MLA from March 2010 until November 2011".
Mr McDevitt's office expenses - like those of all other MLAs - are published on the assembly website.
Mr McDevitt declined to do an interview, but he said in the past his wife - on a voluntary basis - co-ordinated research services to him in his capacity as an MLA.
He confirmed that £8,000, £4,900, £800 and £600 were paid to four researchers between June 2010 and August 2011.
Payments
He said his wife's role was to co-ordinate this research through an independent research consultancy which trades as JM Consulting. He said all payments were made to JM Consulting who then paid the researchers.
He added that no payment was made to his wife and JM Consulting has not provided or co-ordinated research services to any other MLA.
The MLA said that by writing to the assembly authorities he wanted to remove any question of doubt about payments to his wife's company.
And he stressed that she did not benefit directly or indirectly from any payments made from his office.