SDLP calls for executive to provide languages progress report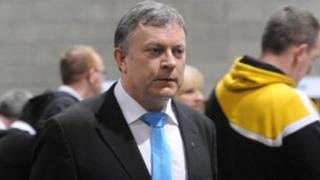 The SDLP has called on the Northern Ireland Executive to publish a report detailing what progress they have made promoting Irish and Ulster-Scots.
It follows the revelation that Stormont ministers failed to provide information on their work on both languages for inclusion in a major European report.
Patsy McGlone, SDLP MLA for Mid Ulster, criticised Sinn Fein's silence on the matter.
He said it was damaging to the progress of the Irish language.
Mr McGlone described the executive's failure to submit details to the UK government for inclusion in a Council of Europe report on minority languages as alarming.
The UK government has also criticised the executive for its failure to provide information to the European report.
However, a Sinn Fein source blamed DUP ministers for the failure to provide details for the report.
Deadline
Stormont's Department of Culture Arts and Leisure (DCAL) drew up a paper on the use and promotion of the Irish language and Ulster-Scots in Northern Ireland.
In a statement, DCAL said that the minister, Carál Ní Chuilín, then submitted this to members of the executive for discussion, two months before the European deadline for information on minority languages to be provided.
Yet the executive was unable to agree a common approach on the languages, and therefore no information was sent to the UK government for inclusion in their report to Europe.
Responding to Mr McGlone, Sinn Fein MLA Rosie McCorley said: "Sinn Fein's strategic and practical leadership on the Irish language is unprecedented.
"While Patsy McGlone is attacking Sinn Fein, we have spearheaded the Líofa campaign to ensure 5,000 new Irish language speakers become fluent by 2015.
"Just last month Líofa celebrated its 4,000th sign-up.
"In recent weeks, minister Ní Chuilín secured the creation of a new all-Ireland language partnership forum and all-Ireland language development forum under the North-South Ministerial Council. Again the SDLP was silent."