Belfast City Council victim of £300,000 payment scam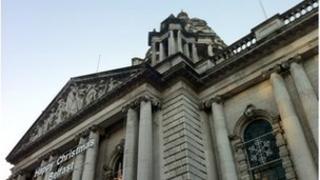 Police are investigating a scam that netted hundreds of thousands of pounds from Belfast City Council.
Sources have told the BBC that about £300,000 has been paid out to fraudsters posing as a legitimate firm.
The council will only say that police are investigating what it calls an "alleged external fraud".
Police said inquiries are under way and there are no further details at this stage.
The BBC understands that a legitimate contractor carried out work for the council. However, the payment was not paid to the firm.
Apparently someone posing as a council representative asked the contractor for its outstanding invoices.
Recoup loss
According to sources what happened next was that someone, posing as the contractor, then asked the council for payment and provided bogus bank details and funds were transferred.
It is understood the council's audit committee will receive a report next month.
It is also understood council representatives are discussing the matter with insurers and that they are hopeful they will be able to recoup the loss.
The council is refusing to answer questions about whether members of staff have been suspended while the investigation takes place.
There is no suggestion, however, that any council employee was involved in any criminality.