Portugal holiday 'unforgettable for all wrong reasons'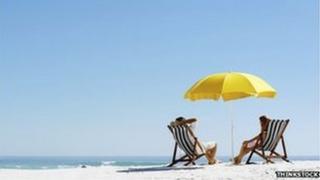 A County Antrim family who planned a holiday to remember, ended up with one that they want to forget.
Stuart McBride, his partner Julie Brown and family and friends aged 18, 16 and 15 were robbed in Praia da Rocha, Portugal, in July.
A safe in their apartment was ripped off its hinges and thieves took their passports, money and credit cards.
Then, the hotel turned from sympathetic to sour, wanting them off the premises as they were alarming other guests.
"Getting robbed was bad enough but the fact that the hotel threw us out three days later was totally unbelievable, we were in total shock," Mr McBride, who is from Larne, told Radio Ulster's Talkback.
"It was a nightmare, it wasn't a holiday. I am still stressed out about it."
They lost five passports, spending money of 1800 euros (£1,554) and debit and credit cards in the robbery.
Added to that, their unsympathetic treatment at the hands of some of the hotel staff added to the anguish.
"We had saved a lot of money for this holiday that cost £3,500. We arrived on a Saturday. The complex looked lovely, the rooms were amazing and it was all going so well until that Wednesday," Mr McBride said.
He said their hotel room was locked but the thieves had got in and torn the safe off a wall, emptying it.
At first, he said, the hotel staff were helpful. But when the family asked to fill in a complaints form and inquired about the hotel's safe insurance, the attitude changed, he said.
"The manager told us we had caused her three days of hell because we told a few guests what happened to us so they could take extra care with security.
"The manager said that other guests did not feel safe in the hotel. They phoned the police and the police told us they weren't throwing us out - they were there as a referee - the hotel wanted us to leave. We had to pack our suitcases and trail them behind us," he said.
The move to another resort cost more money as well as a transfer fee.
"Our whole holiday was ruined. I was heartbroken and we felt very uncomfortable, not really safe or relaxed," he said.
"Getting robbed was bad enough but the fact that the hotel threw us out three days later was just unbelievable."
When contacted by Radio Ulster, the Plaza Real hotel at Sitio dos Castelos, Rotunda do Vau, refused to comment, saying only that it was now a police matter.
Doreen McKenzie the Northern Ireland spokesperson for ABTA - the Association of British Travel Agents - said it was a "horrendous experience".
"It is the first time I've heard of this happening in 40 years in the travel industry," Ms McKenzie said.
She said that the hotel's reaction seemed "most unusual".
"It is not in the hotel's interest to treat guests like that and it is not a very nice way to treat any guest. To involve the police is ridiculous," she said.
Ms McKenzie said travellers on package holidays can contact their rep in the resort to help them.
But others, who travel independently have to deal with the matter themselves.
"My advice would be to take photographs of the scene - ie the safe. To take a picture of the complaint in the hotel's complaints book and to get a copy of the police report," she said.
This information is important as evidence for your travel insurance company to settle a claim, she said.