Teenager given suspended sentence over flag rioting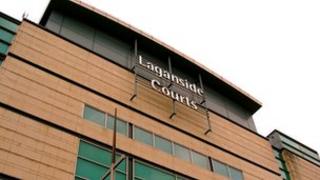 A man has been given a suspended sentence for his part in rioting in east Belfast in January.
Stephen Ferris, 19, from Matilda Gardens in south Belfast, was charged with rioting following a flag protest at city hall.
He initially denied involvement when arrested, but later admitted becoming involved and throwing missiles.
Ferris was given a two-year custodial term suspended for three years at Belfast Crown Court.
He had thrown a golf ball at a female riot officer before attacking nationalist homes near Central Station on East Bridge Street.
Ferris was also seen joining in with a crowd of around 70 rioters throwing various missiles, including bricks, bottles and masonry, at nationalist homes in the Short Strand area.
His defence lawyer said Ferris himself conceded he had "made the biggest mistake of his life" by taking part in the riot.
The judge said Ferris, who had already served three months on remand, was "very fortunate" to not be serving any additional time in prison.