Terence Halpin says gun attack on his west Belfast home was a bid to kill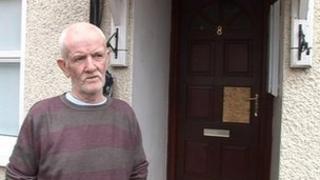 A man whose family escaped injury in a shotgun attack on their west Belfast home on Tuesday has said it was an attempt 'to kill'.
Terence Halpin, 62, his 57-year-old wife and their 27-year-old son were all in their house in Tollnamona Court when shots were fired at their front door.
All three were upstairs asleep when the attack took place at about 02:00 BST.
He said the shots "travelled the length of the house from front to back" and embedded in their fridge and wall.
"Anybody in the hall, or anybody near it would have been killed," Mr Halpin said.
He said they have never experienced any trouble in the area before now.
He added that the family were "baffled" by the shooting, which had come "totally out of the blue".
Mr Halpin said they would not be forced to move out of their home by the people who carried out the attack.
Police have visited the scene of the shooting and have appealed for witnesses to contact them.