Traffic warden issues ticket to dead driver in Belfast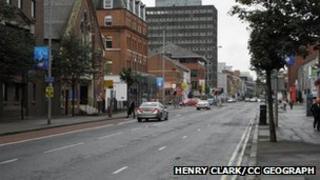 A traffic warden in Belfast issued a parking ticket to a minibus in Belfast without realising a man inside the vehicle had died.
The incident happened last week outside a hotel on Great Victoria Street.
The company in charge of traffic wardens in Belfast said the warden had been unaware that a man inside the vehicle had passed away, and the ticket was later cancelled.
A spokesperson sent the company's sympathy to the man's family.
NSL, which manages traffic wardens in Belfast, issued a statement on Monday.
"We can confirm that a minivan was issued a Penalty Charge Notice (PCN) on Tuesday morning because it was parked in a taxi rank, without the traffic attendant being aware that a person within had passed away.
"As soon as the traffic attendant became aware of the circumstances, the Department for Regional Development was informed and immediately cancelled the PCN.
"Our thoughts and sympathies are with the family of the person."