Northern Ireland doctors in minimum drink price call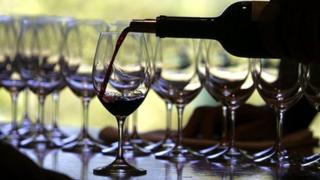 Doctors in Northern Ireland are calling for alcohol to be sold at a minimum price of no less than 50p per unit so that it is never "cheaper than water".
The British Medical Association said the move would curb medical conditions, morbidity and premature death caused by drinking in excess.
BMA chairman Paul Darragh said alcohol misuse destroyed lives.
"BMA believes an effective measure to reduce alcohol misuse is to implement a realistic minimum price," he said.
"This is to ensure that alcohol cannot be sold below cost and, in effect, be cheaper than water to purchase. We believe that such a move will save lives through a reduction in alcohol consumption."
A standard glass of wine contains two units of alcohol and a pint of lager contains about 2.3 units.
Dr Darragh said there was consistent evidence that alcohol consumption and rates of alcohol-related problems were linked to the cost of drink.
He said fixing minimum drinks prices could achieve health goals that raising alcohol taxes alone could not, as it prevented below cost selling and deep discounting.
He was speaking as Prof Sir Ian Gilmore prepared to deliver a lecture at the West Belfast Festival (Féile an Phobail), outlining the evidence for, and the forces against, minimum pricing.
Prof Gilmore, a specialist in liver disease and chair of the European Alcohol and Health Forum Science Group, said: "Given the failure of the Westminster government to follow through on its earlier commitment to a minimum unit price for alcohol, there is a real opportunity for government in Northern Ireland to show the way in adopting this evidence-based public health policy.
"The harm from alcohol in this country is there for all to see, and in minimum unit pricing we have a central plank of policy that we know, from recent experience in Canada, will really save lives."