Joe Brolly defends Tyrone tactic outburst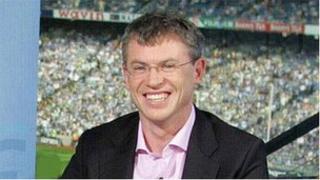 TV commentator Joe Brolly has defended a passionate on-air outburst about the tactics of Tyrone in an All-Ireland Gaelic Football quarter final.
He told BBC Northern Ireland's Talkback that it was justified.
He said the rules of gaelic games need to change to put an end to "cynical fouling".
His angry analysis of Tyrone's narrow win over Monaghan became an internet sensation.
He called a rugby-style tackle on a Monaghan player going for goal "a disgrace".
Tyrone player Sean Cavanagh brought down Conor McManus just as it looked like the Monaghan man might score.
But Brolly was furious even though what Cavanagh did in Dublin's Croke Park is allowed in GAA rules.
"It is absolutely disgraceful. They have achieved something absolutely rotten," he said on RTE television's post-match analysis.
His angry tirade became an internet sensation and tens of thousands watched it on YouTube.
"It is the antithesis of what gaelic games are about," he railed.
"You are supposed to be able to look your opponent in the face. What do we teach kids? Respect for yourself, respect for your opponent. I take an under-12 team. If any of them did that they wouldn't play for the team again.
"I'll not be standing up for that."
Speaking on Talkback on Monday, Brolly said he had been very angry and felt very strongly about how "cynical fouling" was becoming "a template for the game" for young people.
"Sean Cavanagh was the straw that broke the camel's back. We need to stop this, we are the only sport in the world that tolerates cynical fouling," he said.
"He is probably the best footballer of the modern generation, but this is poisoning the game... To be fair, he gave a post-match interview where he said: 'I don't like this... but we are just exploiting the system as it stands.'"
Brolly condemned what he called the "win-at-all-costs" mentality. He said clearly Tyrone supporters would not agree, but he felt strongly.
"It is beginning to poison the ethos of the game," he said.
But, he pointed out that, given the response to what happened at the match, the GAA rule makers now had "the wind at their backs" and were in a position to change the rules.