Parade marks West Belfast Festival 25th birthday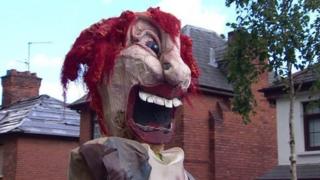 The West Belfast Festival celebrated its 25th birthday on Sunday with a carnival parade and a free outdoor concert for spectators.
The parade traditionally marks the opening of the Féile.
This year it hosts acts such as Faithless, The Priests, The Coronas and the comedian Patrick Kielty.
The festival was born out of the Troubles in 1988 and organisers say it has helped transform the image of west Belfast since then.
"This part of the city was classed as a terrorist community, without culture and without any identity," said festival director, Kevin Gamble.
"The Féile set about changing those perceptions and really welcoming people into west Belfast."
The parade culminated in an outdoor concert at the Falls Park. It included acts such as Jordan O'Keefe - fresh from the finals of Britain's Got Talent.
"It's very good, it has a great set-up. The stage looks brilliant and there's a lot of people coming," he said. "It's fantastic, I'm so happy to be here."
The festival will host a series of events until Sunday 11 August including walks, tours, art exhibitions and concerts.
Other events include the annual West Belfast Talks Back, a popular debate which covers local, national, and international current affairs.