World Police and Fire Games memorial event in Belfast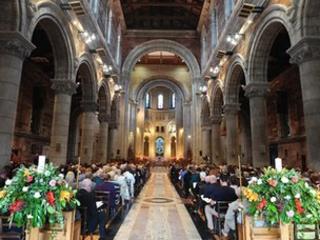 A special memorial service has been held in Belfast on Sunday evening as part of the World Police and Fire Games.
The service remembered colleagues who have lost their lives on duty in the fire, police and prison services in Northern Ireland and beyond.
It was held at St Anne's Cathedral.
The games, which involve 6,700 international competitors, were officially opened on Thursday.
Competitors from 67 countries are taking part in sports ranging from wrist wrestling to the "toughest competitor alive" contest.
Sunday's sermon was given by the Very Reverend John Mann, the dean of Belfast.
"Thank you for bringing these games to the green hills and sparkling waters and lush playing fields and sometimes even blue skies of our very special corner of Ireland and for being part of the life of this place for these days, enriching us with your presence and helping us to remember those who have served in their role in a police, fire or prison service somewhere in the world, but have made the ultimate sacrifice for others," he said.
"Those individuals we recall today, in solemnity and gratitude, as we pray for their families with thanksgiving for their life, because of what they have endured and continue to suffer.
"Those who have not suffered cannot begin to understand what courage it takes to forgive, what tears of grief continue to come from wounds too deep for words."
Rev Mann said Belfast was a changing city.
"This city, that has seen so much division and still periodically consumes itself in fruitless and destructive violent protest and individual sectarian attacks; is, nonetheless, a place of healing," he said.
"It is not healed, it is a place of healing."