Lord Maginnis: Road rage prosecution 'a stitch-up'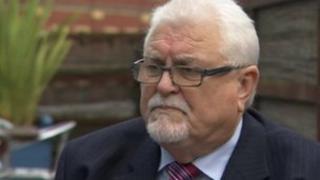 A Northern Ireland peer accused of assault has described the prosecution case against him as a "stitch-up".
Lord Maginnis of Drumglass is accused of assaulting a man, in what is understood to be a road-rage incident.
The 75-year-old represented himself at a review hearing into the case at Dungannon Magistrates Court on Friday.
Lord Maginnis failed in a bid to have a Public Prosecution Service officer, who had directed that the assault charge be brought, summonsed to court to testify.
The peer had applied to the judge to have the PPS officer, named in court as Paul Dale, summonsed to give evidence and to provide all correspondence which had passed between him and senior staff at the Public Prosecution Service.
At an earlier hearing, Lord Maginnis, from Park Lane, Dungannon, County Tyrone, said he wanted Northern Ireland's Justice Minister, David Ford, summonsed to testify in the case.
However, at Friday's hearing, the peer indicated he is no longer proceeding with that application.
'Criticised police'
Lord Maginnis told the court: "I have been advised by a political colleague not to seek to have Minister Ford appear for the contest as I intend to have that particular matter dealt with separately.
"But I believe the person who directed that I should be prosecuted made the decision following a speech I made in the House of Lords in March in which I criticised police."
The judge told Lord Maginnis the complaint was passed from police to the PPS in August 2012 and a decision to prosecute taken the following November. This pre-dated the House of Lords speech by four months. The summons was then served in May 2013.
Lord Maginnis replied: "That November date seems to have come out of the ether."
He continued: "I contacted senior police in December and was assured no decision had been taken. This is a conspiracy. The whole thing is a stitch-up.
"I want the senior prosecutor who made the decision to prosecute summonsed and I want all communications which took place between him and senior PPS staff disclosed."
A lawyer for the PPS said: "I can assure the court any decision made was completely impartial as are all such decisions. We believe these are attempts by Lord Maginnis to blur the issue which is that there was an alleged assault on the injured party."
The judge refused the request to issue a summons for Mr Dale to attend the trial.
Reading from his judgment, he said: "Lord Maginnis has raised concerns as to the PPS delay in issuing a summons and potential motives for directing prosecution against him.
"In these circumstances I do not believe the directing officer Mr Dale can give evidence as to this and therefore I will not be issuing a summons for him to appear. That said, I feel there may be issues of delay which need to be addressed."
'Negative publicity'
Speaking directly to Lord Maginnis, the judge said: "I would strongly urge you to get legal representation on record. I am sure you are more than able to present this case yourself, but I would advise you to obtain a lawyer."
Lord Maginnis responded: "Much as I would like to defend myself, and am well capable of doing so, I have engaged a barrister. However I would like one point made clear. These cases generate a fair bit of negative publicity. I want a ruling that any witnesses coming to court who swear lies can be imprisoned."
The judge replied: "If a witness sets foot in court to swear evidence and it is found they have lied, then the PPS will consider perjury charges and that is punishably by imprisonment. Any lies will encounter the full weight of the law."
Lord Maginnis thanked the judge and before leaving court said whilst he was disappointed the PPS directing officer would not be summonsed, he was grateful for the clarification on perjury.
The case is due to be heard on 19 August.