Aaron Macaulay survived previous accident, funeral told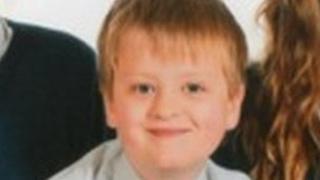 The 10-year-old boy who died after a farm accident in County Down on Tuesday had survived a serious accident when he was two, his funeral has been told.
Aaron Macaulay was working on farm machinery on steep ground in the Rathfriland Road area at Ballyward, when the fatal accident happened.
His funeral has been held at Drumgooland Presbyterian Church.
Rev Michael Davidson told moruners that Aaron showed his "strength and bravery every day".
The minister said that as a result of the previous accident, Aaron had a damaged arm that needed surgery and skin grafts at regular intervals.
"He never complained about his arm, although he was probably more troubled by it than anybody knew and he would often get tired in the afternoon at school," he said.
"On each occasion he was faced with further surgery, he dealt with it with great calmness and bravery."
He added: "The fact that Aaron was so full of life and so full of fun was all the more special because of what he had come through."
Rev Davidson said it had been "a devastating and heart-breaking week for all of us, particularly for Aaron's family".
Earlier a private service at the family home was held.
Following the church service, Aaron was buried in the graveyard adjoining Drumgooland Presbyterian Church.