Man has bail conditions varied for family funeral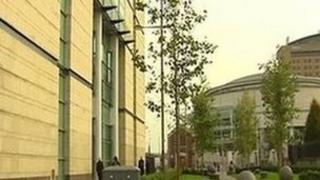 A man charged with making a threat to kill and possessing an offensive weapon has had his bail conditions varied so he can attend a family funeral.
John Ward, 30, has been granted permission to join a funeral motorcade travelling from Belfast to Newry.
Belfast Crown Court heard Mr Ward will be one of 100 male members from the travelling community meeting the coffin of his great nephew.
He can also attended the funeral mass and burial on Friday.
Judge McReynolds, suspended Mr Ward's curfew for Thursday night only, to also allow him to attend the family wake before the 13-month-old is buried on Friday.
The judge said while Mr Ward's bail condition were proportionate and necessary, she was inclined to wave the curfew so he could join the motorcade meeting the coffin at Belfast City Airport and travel behind the hearse to Daisy Hill Hospital in Newry.
She warned him to be back at his bail address in Bessbrook by 22:00 BST on Friday night. Mr Ward had sought to have the curfew suspended until Saturday to allow him to return to the child's home after the funeral, but this was refused.
The conditions stipulate that he is not to enter any licenced premises and resumes his normal curfew from 22:00 - 08:00 BST on Friday.