Simon Hamilton announces new division to reform public sector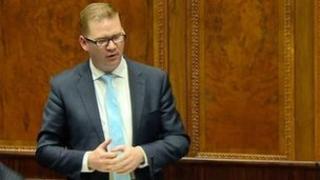 The new finance minister Simon Hamilton has announced the creation of a new division to reform the public sector.
Mr Hamilton, who was appointed on Monday, said the aim was to deliver innovation and efficiency.
He said the biggest challenge over the next decade was less public spending coupled with rising pressures such as an aging population.
"Tough times lie ahead. Meeting those demands with ever fewer resources will be the underlying context of my time.
"The people of Northern Ireland won't accept, and nor do they deserve, less with less. They deserve more with less. That's all very easy to say but far harder to deliver," he added.
In a speech to the Confederation of British Industry in Northern Ireland, the minster said there must be reform and it must be relentless.
Mr Hamilton also outlined how he saw the Department of Finance and Personnel helping to achieve the aim of public sector reform.
"I want the Department of Finance and Personnel to be a proactive partner with other departments and the entirety of our public sector to positively change Northern Ireland."
On Thursday he also announced the creation of a public sector reform division within the department.
The new reform division i will work with government departments to stimulate innovation in the public sector.
"I see the Department of Finance and Personnel as an enabler; as a facilitator; as a partner that provides support, assistance and, where appropriate, funding to make reform happen," Mr Hamilton said.